Yazd Type with Positive angle
The Yazd Bandsaw Blade is engineered with special tooth geometry specifically developed for cutting structural materials. Its advanced features include increased tooth strength and a bi-metal construction for enhanced durability. With an

M42 High-Speed Steel

cutting edge, this blade provides superior heat and wear resistance. The tooth

hardness of Rc 67-69

ensures excellent cutting performance, while the positive rake design allows for easier penetration and reduced vibration.
Applications and Characteristics The Yazd Bandsaw Blade is ideal for both production and non-production cutting of solids and thick-wall
tubing of medium alloy
. It excels in
cutting tubes, structurals, small solids
, and bundles. Additionally, it is highly recommended for work hardened materials such as stainless steel, ensuring precise and efficient cutting operations. Complementary Products In addition to our bandsaw blades, TFI Co. offers a range of complementary products to enhance your cutting experience. We supply high-quality coolant liquid specifically designed for bandsaw machines, ensuring optimal performance and prolonging the lifespan of your blades. Furthermore, we provide Bandsaw Machines themselves, built with precision and reliability in mind. Lastly, we offer other specialized bandsaw blades suitable for cutting food materials, meeting the unique requirements of the food processing industry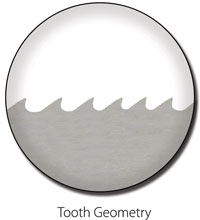 The YAZD Bandsaw Blade is available in the following sizes:
19 x 0.9 mm

27 x 0.9 mm

34 x 1.1 mm

41 x 1.3 mm
As a leading provider of bandsaw blades, we cater to mass quantity buyers, including active factories with multiple bandsaw machines, as well as dealers interested in selling our products in the Middle East, North Africa, and South Asia regions.


Applications of Yazd Bandsaw Blades:
Available Dimensions of Bam Bandsaw Strips:
Available Dimensions for YAZD Positive rake angle Bandsaw Blades