Kish Type with Dedicated Teeth for Tube Cutting
Introducing the Kish TFI Co. Bandsaw Blades Model: Kish Bandsaw Blade The Kish Bandsaw Blade is
specially designed for tube cutting applications
.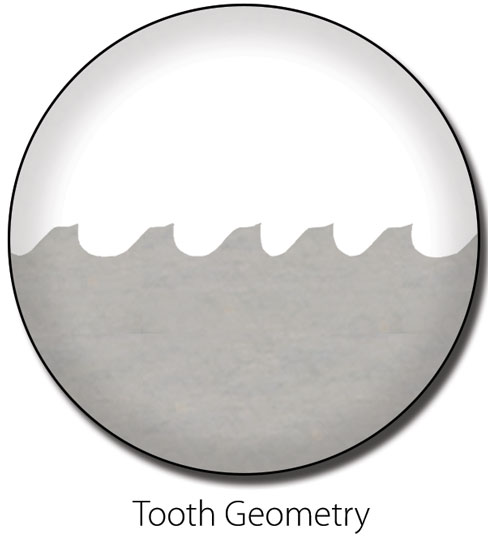 It features a unique design to prevent tooth breakage and excessive stripping, allowing for heavier penetration during fast cutting rates. With the addition of Kish on the
back face of the tooth tip
, excessive cutting and continuous chipping are suppressed. This innovative blade is developed to
withstand vibrations and ensure high cutting efficiency
when working with structural steel and similar materials. Applications and Characteristics The Kish Bandsaw Blade excels in cutting tube materials, providing reliable performance and exceptional durability. It is specifically designed to handle structural steel and other materials that are prone to vibration. The blade's strength and cutting efficiency make it an ideal choice for various industrial applications. The Kish Bandsaw Blade is available in the following coil strips sizes:
27 x 0.9 mm

34 x 1.1 mm

41 x 1.3 mm
TFI Co. is committed to providing comprehensive solutions to meet all your cutting needs. Experience the superior performance and reliability of TFI Co. bandsaw blades for your cutting operations. As a leading provider of bandsaw blades, we cater to mass quantity buyers, including active factories with multiple bandsaw machines, as well as dealers interested in selling our products in the Middle East, North Africa, and South Asia regions.


Applications of Kish Bandsaw Blades:
Available Dimensions of Qom Bandsaw Strips:
Available Dimensions for Kish Profile Cutting Bandsaw Blades
WIDTH*GAUGE
VARIABLE PITCH
INCH
MM
COIL LENGTH
4/6
1*.035
27.0*0.90
250ft.
TFI280
1-1/4*.042
34.0*1.10
250ft.
TFI281
1-1/2*.050
41.0*1.27
250ft.
TFI282