Qom Type with Special Engineered Relief Angle
Our Metal Cutting Bandsaw Blades feature a variety of models with different rake angles and teeth gullet designs to suit your specific needs. Each blade is meticulously crafted using M42 High-Speed Steel, ensuring exceptional heat and wear durability. With tooth hardness ranging from Rc 67-69, our blades offer unmatched strength and longevity.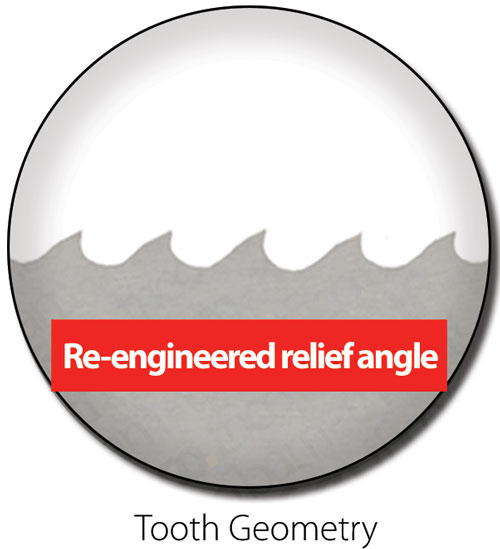 Qom Bandsaw Blades: Engineered for Excellence
One of our standout models is the Qom Bandsaw Blades, featuring re-engineered relief angles for optimal cutting performance. These blades incorporate a duplex tooth design with high positive rake, providing maximum strength when cutting difficult materials such as super alloys. Ideal for production sawing of exotic materials like hardened copper, Aluminum, Bronze alloy the Qom Bandsaw Blades deliver exceptional precision and efficiency.Impressive Features and Benefits
• Uniquely designed tooth edge with variable height and set, ensuring precise and efficient cutting.
• Ground Teeth with positive rake angle, allowing for easy penetration and faster cuts.
• Excellent heat and wear resistance, ensuring long-lasting performance.
• Pulsating action that enables the teeth to cut rapidly, maximizing efficiency.
Wide Range of Applications
Our Metal Cutting Bandsaw Blades cater to a diverse range of applications. 
Whether you're working with tool steel, high-speed steel, stainless steels, hardened copper, aluminum bronze alloys, or non-ferrous metals, our blades offer exceptional cutting performance. They are suitable for
machines with hydraulic feed control, providing optimal results in various cutting operations.
The QOM Bandsaw Blade is available in the following coil strips sizes:
19 x 0.9 mm

27 x 0.9 mm

34 x 1.1 mm

41 x 1.3 mm

54 x 1.6 mm 
TFI Co. – Your Complete Solution
TFI Co. is not only your trusted source for premium bandsaw blades but also your comprehensive solution provider. In addition to our extensive range of bandsaw blades, we offer complementary products such as coolant liquid for bandsaw machines, bandsaw machines themselves, and other specialized food bandsaw blades. Count on us for all your cutting needs.


Applications of Qom Bandsaw Blades:
Available Dimensions of Qom Bandsaw Strips:
Available Dimensions for QOM Positive rake angle Bandsaw Blades
WIDTH*GAUGE
VARIABLE PITCH
INCH
MM
COIL LENGTH
2/3
3/4
4/6
3/4*.035
19.0*0.90
250ft.
TFI263
1*.035
27.0*0.90
250ft.
TFI255
TFI259
TFI264
1-1/4*.042
34.0*1.10
250ft.
TFI256
TFI260
TFI265
1-1/2*.050
41.0*1.27
250ft.
TFI257
TFI261
TFI266
2*.063
54.0*1.60
250ft.
TFI258
TFI262
TFI267